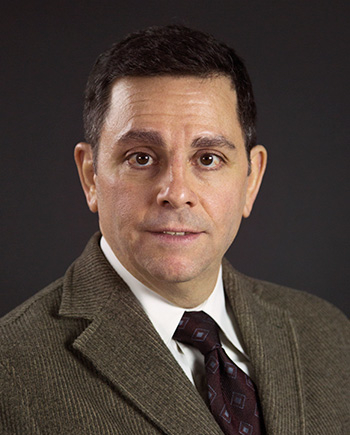 Associate Professor; Ph.D., University of Texas at Austin.
Email:
kkostarelos

[at]

uh [dot] edu
Dr. Kostarelos earned his PhD at the University of Texas at Austin, working on an inter-disciplinary team that adapted several petroleum industry technologies for environmental applications with Gary Pope's group. While there, he lead a research effort on a new concept called "Neutral Buoyancy Approach," which is an extension of Surfactant Enhanced Aquifer Remediation (SEAR) directed at recovering hazardous liquids (DNAPLs) from the subsurface. The research group also adapted various enhanced oil recovery (EOR) techniques for the purpose of recovering DNAPLs: partitioning interwell tracer testing (PITT) and polymer-based viscosifiers are two examples.
Before joining the University of Houston, Dr. Kostarelos was on the faculty at The University of Cyprus where he and his colleagues have founded the NIREAS International Water Research Center, which included his Subsurface Research Laboratory and resulted in an award of 2.5M Euros. His research interests in the area of flow in porous media and fracture flow include EOR technologies, PITT, among others. His work has also involved development of an NIR-based, optical fiber chemical sensor that could be used in the subsurface environment. See the RESEARCH tab for a listing of current research projects.
Research Interests:
Recently completed and current research projects include:
HC gas flooding for EOR
Heavy Oil Recovery using Cyclic Surfactant Injection
Recycling Produced Water in Hydraulic Fracturing in the Appalachian basin
Nanoparticle-Stabilized CO2 Foam for Enhanced Oil Recovery
Optimum Lumping for CO2 Miscible Gas Injection
Effect of iron-bearing minerals on surfactant adsorption
CO2 and Gas flooding comparison for Wilcox formation
Gas – foam flooding for unconventionals
Microemulsion-based tar recovery
Mechanisms of asphaltene electro-deposition
Surfactant flooding for jet fuel recovery
Graduate Students:
Post-doctoral Research Associates
Doctoral Students
Puspesh Sharma
Jae Ho Lee
Masters Students
Frederick B. Woodward (2015)
Travis Comer (2017)
Anand Selveindran (2017)
Xiaonan Xiong (2017)
Shunxiang Xia
Mohamad Salman