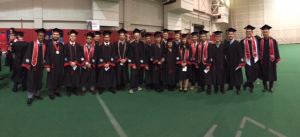 Petroleum engineering offers the full spectrum of career opportunities—whether working for large multinational corporations or smaller independent oil companies, or even opportunities for the development of new companies and enterprises.
The industry continues to re-invent itself and in recent years there have been major new developments in the horizontal drilling, hydraulic fracturing, production and stimulation, and the production of deep, tight gas formations, to mention a few. Such developments have invigorated the US and global petroleum production industry and will have an important impact in meeting global energy challenges in the future.
Historically, compensation in the petroleum industry has been quite high and in recent years it has led all B.S. degrees, due to the ever increasing importance of oil and gas and energy in general and due to the large numbers of retirements among currently practicing petroleum engineers.
Milestones of the University of Houston B. S. in Petroleum Engineering
Program re-approved by Texas Higher Education Coordinating Board  - January, 2009
First class admitted to program Fall 2009  
First graduates in Spring 2013
ABET accreditation in Summer 2015
Enrollment tops 1000 students in Fall 2015
ABET all college of engineering accreditation review- Spring 2018
 
Vision, Mission, and Educational Objectives
Vision
The vision of the University of Houston Petroleum Engineering Department is to be a center of world-class petroleum engineering education, research and service in Houston, the center of the world petroleum industry.
Mission
The mission of the University of Houston Petroleum Engineering Department is to educate students to become highly qualified petroleum engineers, to conduct innovative research in petroleum engineering and related interdisciplinary areas, and provide service to the profession and to society.
Educational Objectives 
Graduates of the University of Houston Petroleum Engineering Department will:
address the challenges of the world's energy needs responsibly,
exceed the evolving expectations of employers in the petroleum and energy industries,
sustain industry leading skills, and
be leaders in industry, academia, and government.